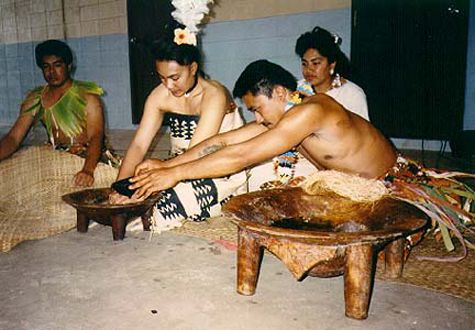 Kava, an herb from the Pacific islands whose roots yield relaxing compounds, has been sold in the U.S. for a long time. In 1900 kava extract appeared in the Sears Roebuck catalog as a "temperance wine," an alternative to demon drink. Buyers who purchased the extract received a free tea set. Up until the 1950s kava products were registered in the U.S. Pharmacopoeia, the official compilation of approved medicines, for the treatment of both gonorrhea and nervousness.
Captain Cook may have been the first non-native to be offered kava, and he was put off by it. The root of the plant is traditionally ground by native people and mixed with a little water. The mixture is squeezed and strained into a coconut shell and drunk. The feeling of relaxation is immediate and pleasant. Compounds in kava relax tense muscles and work in the amygdala, the anxiety centers of the brain. For Captain Cook, the relaxing native drink looked un-appealing.
"Kava time" in late afternoon is a regular feature of Pacific island native cultural life, and the use of kava among the people of Oceania goes back at least 3000 years. Non-alcoholic and the color of muddy water, kava is an agent of peace and tranquility. "Kava time" is a daily period of kinship and community, when native people get together, drink kava, and share what has happened in their day. Other visitors to the Pacific islands have taken a more positive approach to kava than Captain Cook and have enjoyed kava time. Pope John Paul drank kava in Fiji, as have British royals and innumerable politicians and diplomats.
In 1996, a kava boom, fueled by features in various news outlets, sent kava sales soaring in both the U.S. and Europe. I wrote a book about kava entitled
Kava, Medicine Hunting in Paradise,
and hundreds of companies put out kava-based products. Bolstered by several European human clinical studies demonstrating anti-anxiety effects, kava became huge. Sales of kava – "the natural Xanax" – went exponential, and for the first time, many South Pacific island cultures flourished economically due to brisk kava sales.