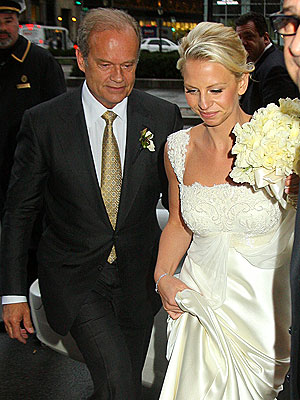 BEVERLY HILLS, Calif. — < Kelsey Grammer > paid a moving tribute to his pregnant wife, Kayte Walsh, on Sunday night and insisted that his Golden Globe victory for Best Performance by an Actor in a Television Series - Drama was further proof that his life has "turned a corner."
The 56-year-old star celebrated with fellow cast members from "Boss" as he claimed the award just hours after announcing Walsh is due to give birth to twins later this year.
With three failed marriages behind him and widely reported battles with substance abuse and destructive lifestyle issues, Grammer told Yahoo! how his recent revival would not have been possible without Walsh, who's 26 years his junior.
The pair endured heartache together when Walsh suffered a miscarriage that was publicly announced in October 2010.
"She is the glue that holds me together," Grammer said. "She is a wonderful and magical person who makes everything make sense. I cannot wait to meet th
e new arrivals."
"I have had difficult periods in my life, but things could not be better. And they keep getting better. This is a wonderful thing to celebrate and the future fills me with excitement. It has been a magnificent year."
Grammer and Walsh were inseparable during the ceremony at the Beverly Hilton Hotel, only parting ways for the few moments it took the former "Frasier" star to accept his prize.
At a lavish after-party hosted by In Style and Warner Bros., Grammer insisted upon being photographed with Walsh and the full cast of "Boss" as he smiled his way down the red carpet.
"It is incredible to see him so happy and we cannot wait for our family to start," Walsh said. "He is very caring and he is going to be a wonderful father."
Grammer's success, which saw him beat out "Boardwalk Empire" actor Steve Buscemi, Bryan Cranston ("Breaking Bad"), Jeremy Irons ("The Borgias"), and Damian Lewis ("Homeland") continued this year's trend of victories in the television categories for actors who previously thrived on the big screen or on networks, but have now turned their talents to cable.
Claire Danes won her third Globe for her role in Showtime's "Homeland," while Matt Le Blanc won best actor in a comedy for "Episodes." Jessica Lange, winner of four previous Globes in movie categories, took home best supporting actress in a TV series honors for her part in FX's "American Horror Story," while Laura Dern won best TV comedy actress for "Enlightened."